ATLANTA – In a news conference at the state Capitol Thursday afternoon, Attorney General Chris Carr and Governor Brian Kemp announced the indictments of more than a dozen alleged gang members.
According to an indictment, a Barrow County grand jury returned a true bill on Oct. 25th on 31 different counts including violation of the Georgia Street Terrorism and Prevention Act, violation of the Racketeer Influenced and Corrupt Organizations Act, drug trafficking, felony murder and aggravated assault.
"These 17 defendants are alleged to have engaged in a pattern of racketeering activity for the common purpose of illegally obtaining money, weapons and property for their gang," said Attorney General Carr.
The indictment was the result of "Operation Don Fall," an investigation of the Georgia Bureau of Investigation's Gang Task Force and the Georgia Department of Corrections' Office of Professional Standards Investigative Division and Security Threat Group Unit. 
Those named in the indictment are alleged to be members of the 183 Gangster Bloods, including:
Ralph Alecia, 49, in custody at Attica State Prison in New York

Jamar Ramsay, 39, in custody at Hays State Prison in Georgia

Nicholas Wiseman, 31

Taurris Taylor, 30

Nigel Harvey, 22

Maya Covert, 31

Brantavious Sims, 19

Kenneth Searcy, 31

Akeem Lanier, 34

Quintavius Render, 34

Dexcadrick Graddy, 25

Quentin Walker, Jr., 34

Ritasha Ogburn, 31

Tonisha Wilson, 30

Kalip Sherman, 24

Aaron Smith, 30

Antwon Sutton, 26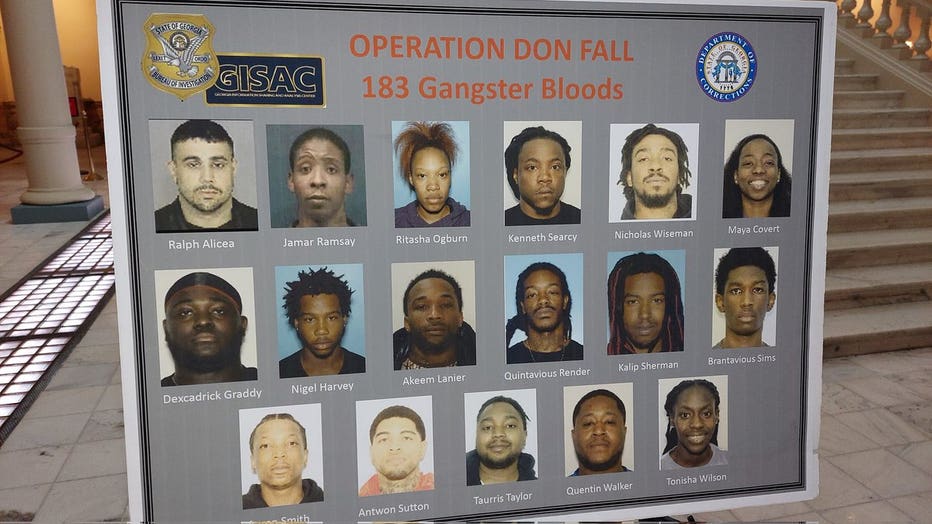 State leaders announced the arrest of 17 suspected gang members of the183 Gangster Bloods. (Jim Zorn/FOX 5 Atlanta).
Alecia is alleged to be a national leader of the 183 Gangster Bloods, while Ramsay is alleged to be one of the statewide leaders of the gang in Georgia.
According to the indictment, the gang committed crimes in 10 Georgia counties including Athens-Clarke, Barrow, Chattooga, Fulton and Gwinnett.
The indictment tied Akeem Lanier and Dexcadrick Graddy to a previously unsolved arson in Laurens County on June 14, 2020.
Investigators said in one of their most "egregious" moves gang members used "family-friendly" events to recruit young children.
"They host basketball tournaments and BBQs," said GBI Director Mike Register.  "They do these types of things with one purpose—to recruit our young people into a life of crime and violence."
Gov. Brian Kemp said that was one of the reasons educators pushed him to reopen schools during the COVID-19 pandemic.
"I was meeting with educators, athletic directors and other people in the basement of the Capitol in the conference room right below us and they were telling me, 'Governor, we have got to get our kids back in the classroom because instead of us recruiting them to be on the ball field or in the band, they're getting recruited by street gangs, because they're not at school. They're not around the people they need to be around and they are getting targeted,'" recalled Gov. Kemp. "And they were specifically saying 13-, 14-, 15-year-old kids and that's why we're here today." 
TEENS ARRESTED IN MURDER OF MAN FOUND SHOT TO DEATH NEAR CITY POND PARK
The gang also allegedly used social media and music videos to promote the organization.
Prosecutors pointed to a June 2019 video on YouTube that included the lyrics "I got some money and bought me a pistol, look like a Glock, but shoots like a missile" and "pull up to your spot with a lot of heat, turn a drug deal to a robbery, everybody got sticks like a hockey team, even the police ain't stoppin me."
Some have recently criticized the use of song lyrics in prosecutions, arguing that as art, the lyrics should be protected under the First Amendment.
"When you are a criminal street gang member that's broadcasting the acts that you're doing over any medium whether it be a billboard or a song, it's relevant evidence," explained Cara Convery, the head of the Attorney General's Gang Prosecution Unit.  "But the sort of key usage of it for us in this case and in any other that we're working is the precision element—being very specific about what's used and the way that it's used."
What is the Racketeer Influenced and Corrupt Organizations (RICO) Act?
The Racketeer Influenced and Corrupt Organizations Act, or RICO, was developed to fight organized crime. It was enacted in 1970 after being signed into law by President Richard Nixon.
Federally, RICO was originally was intended to be used to combat the Mafia. It draws from a list of 27 federal crimes and eight state crimes committed repeated over the course of a 10-year period. Those crimes can include fraud, theft, computer crimes, embezzlement, credit scams, investment schemes, human trafficking, illegal gambling, bribery, kidnapping, murder, money laundering, counterfeiting, and various drug charges.
The Justice Department has used RICO to dismantle multiple crime families including the Gambions and also has helped to weed out corruption in several city police departments including those in Key West and Los Angeles. Prosecutors have also used RICO to try to dismantle several street gangs and helped in prosecuting businesses that break federal law.
Georgia's RICO statutes are similar to the federal version, but are much broader in that the criminal "enterprise" does not have to be around as long. Georgia is one of only 33 states that has its own RICO statutes. However, in both state and federal laws, a pattern of criminal enterprise has to be established.
Recently, the Fulton County District Attorney's Office used the RICO act to arrest rappers Young Thug, Gunna, and Yak Gotti and about two dozen other alleged "Young Slime Life" associates. The DA's officer also hired a RICO expert in its investigating potential efforts by former President Donald Trump and others to influence last year's general election.
Both investigations have thrust the common, but complex charge of RICO back into the public spotlight.
Violating RICO carries a maximum of 20 years and a fine that is "greater of $25,000 or three times the amount of pecuniary gain."
Under RICO, victims impacted can seek civil recourse without the defendant being able to hide behind bankruptcy to skirt judgement or restitution.
Source link