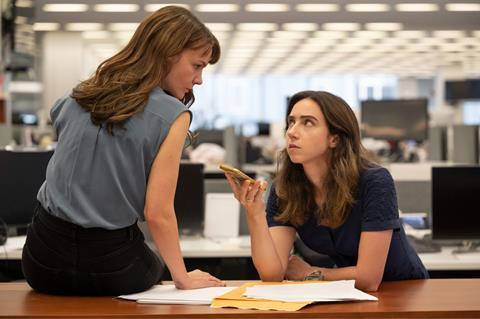 Dir. Maria Schrader. US. 2022. 135mins.
A rock-solid investigative newspaper drama about and told by women, She Said makes a timely bow as its subject – or object – Harvey Weinstein faces further charges in Los Angeles having been sentenced to 23 years in prison in 2020 for rape and sexual assault. This is the story of how New York Times reporters Jodi Kantor (Zoe Kazan) and Megan Twohey (Carey Mulligan) brought those grotesque abuses of power to light, starting a process that has ignited a worldwide movement. Outside the story it chronicles, She Said also balances the record of, say, All The Presidents Men or Spotlight with its two senior female reporters juggling families to work with female victims to crusade for women's justice — for a female editor (Patricia Clarkson). Hopefully the same plaudits will come its way. It's about time.
At 135 minutes, Schrader has been given time and she uses it judiciously
Germany's Maria Schrader (I'm Your Man) directs this Plan B production for Universal with a solid hand on the tiller. Visually, it's hard to bring much that's new to the newspaper office layout, even when it's all glass-and-steel modernity like the New York Times, but the film's strength is in its slow-build, the cross-cut and a screenplay which pays close attention to every little detail. Mulligan and Kazan, in particular, put in committed performances, surrounded by an array of strength which includes Ashley Judd playing herself and Samantha Morton as whistleblower Zelda Perkins in one tense sequence where the case begins to break. There are no new factual revelations as Schrader opens the film out of the newsroom to London and Hong Kong locations, but the sensitive treatment of female struggle and solidarity, and the life-long impact of abuse on victims, is given time to breathe in a tense drama – and that's new enough to bring audiences to their feet.
With a prologue on the Irish set of a Miramax feature which would bring Laura Madden (played by Lola Petticrew and later Jennifer Ehle) into the film industry, Schrader starts her film proper at the NYT, where a newly-pregnant Twohey is working on the story which would bring Donald Trump's pussy-grabbing exploits to light as Kantor observes from across the newsroom. Kantor is a mother of two young girls herself, and a sympathetic presence when Twohey suffers post-natal trauma.
Kantor has been alerted to a startling record of alleged abuse by Weinstein and, when she returns to work, Twohey joins her colleague in building a case against the film industry mogul. It won't be easy, but Schrader makes their journey thrilling, giving Kantor her own 'Deep Throat' sequence in a nod to Alan Pakula's drama as the pair try to persuade intimidated and disillusioned victims to go on the record in an industry with its own record of punishing those who dare to speak out.
At 135 minutes, Schrader has been given time and she uses it judiciously. Rebecca Lenkiewicz's screenplay (adapted from Kantor and Twohey's book) is firm, complex, and detailed. It doesn't cut corners; except, perhaps, in detailing the rival New Yorker investigation which took place at the same time. The hot button of the NDA, the issues of consent, the grey lines that Weinstein knew how to cross, the long-term damage to victims, are all laid down clearly, as are the obstacles facing Kantor and Twohey, who cut a modern-day Woodward and Bernstein image as they doggedly pursue their goal.She Said is also a lesson for young journalists in how to cold-call and doorstep with respect.
Clarkson, playing New York Times assistant managing editor (now investigations editor) Rebecca Corbett, is in unquestioned command and an older woman in what was once a white man's world. Dean Baquet (Andre Braugher), as the NYT's executive editor, is crisp, unafraid, and a Black man in control of that world, too. Another marvellous footnote: Kantor and Twohey have supportive, loving partners who don't need a sequence where they're either thanked profusely or threaten to walk out. Flashbacks do not detail attacks. Weinstein is never shown, only heard. Things really can change onscreen as well as off, it seems.
Wider audiences know what happens or, at least, the headline takeaways. That in October 2017, the New York Times will push the button on the story, and, eventually, Weinstein will be sent to jail after revelations which shocked the world and prompted a meltdown in Hollywood. How everyone involved – from the real-life victims turned antagonists, to the reporters, the editors, publishers and the creative team behind She Said – get there is, however, thrilling, even as it appalls. The team effort of the story flows into and becomes a part of the team effort onscreen, and the fight continues.
Production companies: Anapurna, Plan B
Worldwide distribution: Universal
Producers: Dede Gardner, Jeremy Kleiner
Screenplay: Rebecca Lenkiewicz, based on The New York Times Investigation by Jodi Kantor, Megan Twohey and Rebecca Borbett, and the book 'She Said: Breaking the Sexual Harassment Story That Helped Ignite a Movement' by Jodi Kantor and Megan Twohey
Cinematography: Natasha Braier
Production design: Meredith Lippincott
Editing: Hansjorg Weissbrich
Music: Nicholas Britell
Main cast: Carey Mulligan, Zoe Kazan, Patricia Clarkson, Andre Braugher, Jennifer Ehle, Samantha Morton, Ashley Judd