Residents who wanted to request a free vacation house check or a wellness check for an elderly friend or relative used to stop by the RB RSVP Storefront in the Rancho Bernardo Library to fill out the forms.
But that option, along with the opportunity to drop in to chat about safety issues and concerns with a member of San Diego Police Department's Retired Senior Volunteer Patrol, is on hold.
A lack of volunteers has made staffing the office on the library's second floor impossible.
"We probably need at least 20 volunteers, so for now, no storefront and only one car on patrol on Tuesdays, Wednesdays and Thursdays," said RB RSVP Administrator Bob Walder.
Several years ago RB RSVP had enough members for three two-person patrols five days a week, two patrols cruising the community and a third to visit seniors living alone and enrolled in the You Are Not Alone program, he said.
The number of volunteers has dwindled from 34 before the pandemic to 12, Walder said. Two are new recruits, who joined in the past couple months.
Patrols driving around in marked cars are crucial to deterring crime, Walder said.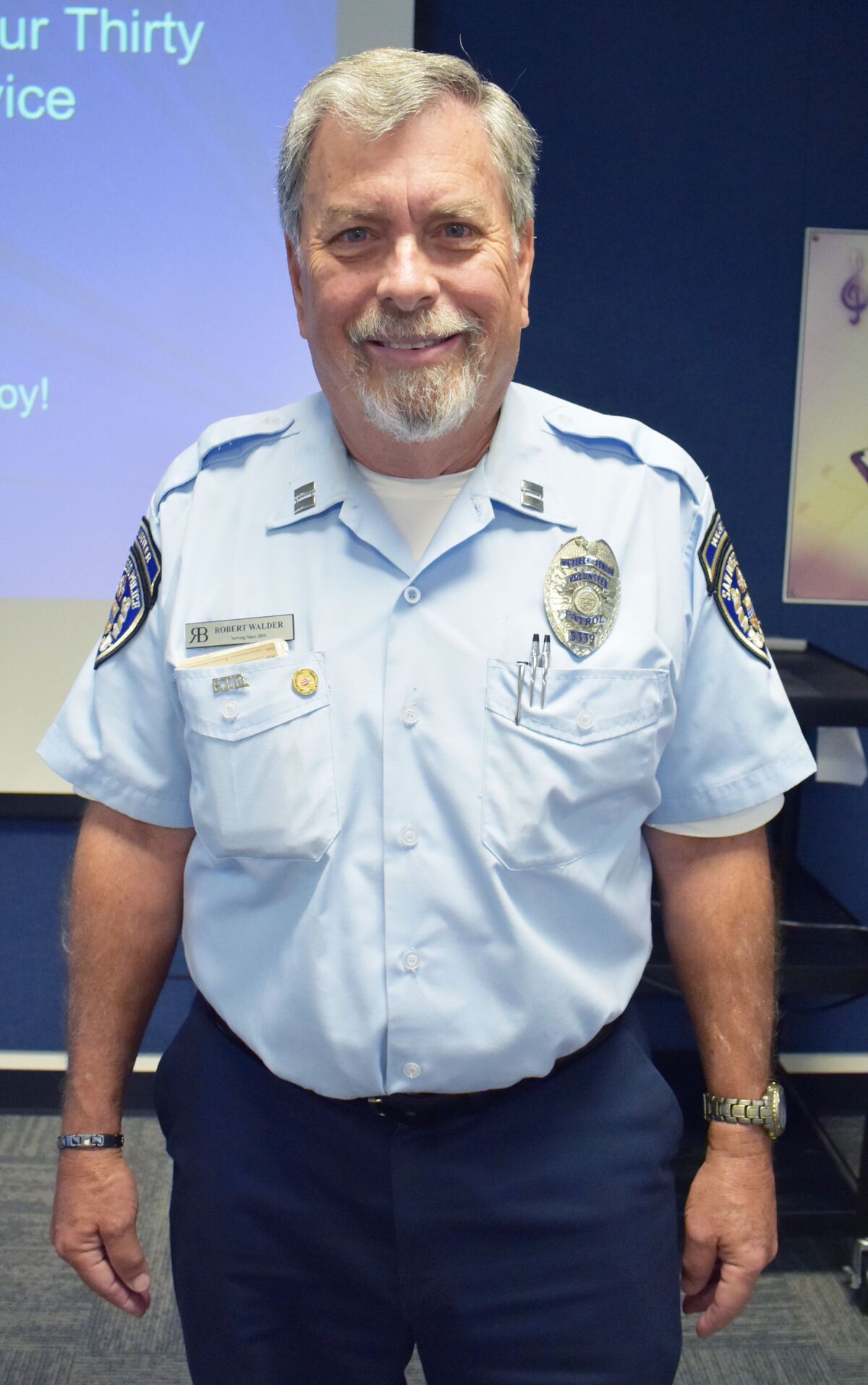 "Our patrol is the only random police department patrol in our area," he said. "We are the eyes and ears, being in places not expected."
RSVP members never confront someone, but follow until police arrive, he said. Besides driving around bank, store and school parking lots, they cruise Rancho Bernardo's neighborhoods on the lookout for porch pirates and other criminals.
"At Christmas I caught a porch pirate, it was a kid on a moped," Walder said. "He drove through Seven Oaks and was looking at porches. We stayed a car length behind. He finally abandoned the neighborhood and rode into Poway.
"Another time I saw a guy in Westwood go up on a porch, grab a package and put it in his car," he said.
Walder radioed police and followed the car until a police officer could pull the suspect over. The package's address did not match his license, so RSVP returned the package to the home and police dealt with the man.
Rancho Bernardo RSVP was the first program of its kind in the United States, founded in 1992 as a way for volunteers age 50-plus to help police protect the community. It started with just a couple of tasks — members drove around looking for suspicious activity, and their visibility was considered a criminal deterrent.
But when the program's value became apparent, assigned tasks grew and units opened across the City of San Diego.
It did not take long for other law enforcement agencies to learn how the senior volunteers were a benefit to SDPD. Similar groups based on RSVP's model formed to help the County of San Diego Sheriff's Department and agencies across the country. The RB unit even became the model for similar organizations in other countries, officials said.
From its founding in June 1992 through the end of 2021, those in the RB RSVP unit collectively donated more than 459,126 hours and completed over 8,000 patrols in the community, Walder said.
The first RSVP class in 1992 had 21 members. Since then RSVP grew into one of the largest and most successful volunteer programs in the nation, Walder said.
But the COVID-19 pandemic took its toll. Shutdowns in March 2020 put the program on hiatus. With members in the highest-risk category, SDPD did not allow them to resume until after vaccines became available.
Over the two-year hiatus many volunteers retired or moved, and RSVP was not able to recruit replacements. That led to the current staffing shortage.
Walder said there is a new training program. The Sheriff's Department is hosting a two-week program for its Senior Volunteer Patrol and SDPD's RSVP.
RSVP members must be 50 or older, semi- or fully retired, have a valid California driver's license and be available a minimum of three days per month. They must also pass a background check and have no felony convictions.
Those considering joining are welcome to go on a ride-along to get a greater understanding of duties and expectations. They must also pass a background check.
"If they start the process now, they can get through the approval process in time for the January academy," Walder said.
Walder said he needs more volunteers. A staffed storefront is needed to help all Rancho Bernardo residents. While the SDPD has moved its service request forms online, some residents do not use the internet. This is especially true for seniors who would benefit from the You Are Not Alone program, which has RSVP members checking on elderly residents living alone. The visits are important because seniors have been found in medical distress, he said.
SDPD does not allow RSVP members to fill out the forms for people who call the office, so without staffed storefront hours these individuals need to find someone to help them enroll online.
The same is true for the free vacation house checks, where RSVP members pick up newspapers and fliers, check doors and windows are secure and report if anything looks tampered with at the property while residents are away.
"When I see newspapers piled up on the driveway, that is an indication they are not there," Walder said.
Before the pandemic, RSVP conducted four to six house checks every day they were out on patrol. But requests have been far fewer since RSVP resumed its services. Walder said this might be because people cannot stop by the storefront.
For details on how to join RB RSVP, call Walder at 858-518-6882 or email RanchoBernardo.RSVP@gmail.com.
Request a free vacation house check at sandiego.gov/police/services/vacation-house-check. Rancho Bernardo is in Northeastern Division. Submit at least two weeks prior to departure.
YANA visits are based on participants' schedules. Enroll at sandiego.gov/police/services/you-are-not-alone.