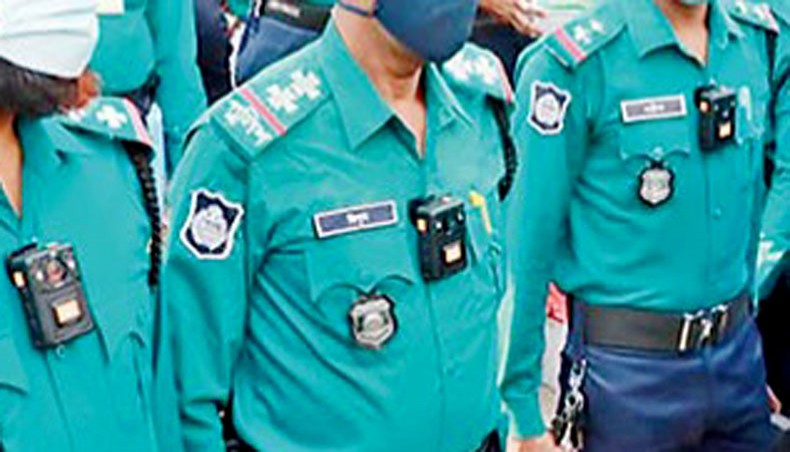 Bangladesh police have started distributing body-worn cameras, mostly for traffic police and patrol duty, amid doubt from rights activists over their use in appropriate situations, particularly while containing political demonstrations by the opposition camps.
According to police headquarters officials, they distributed 4,000 devices with live streaming capability in the past one year and all metropolitan and district units, river and highway police received at least some body-worn cameras.
One-fourth of those cameras have been distributed to Dhaka Metropolitan Police, focusing on traffic and patrol police duties that have public engagement, officials said, adding that instruction has been given to use those cameras during operational duties both during the day and night.
The officials, however, said that the central monitoring of those cameras—costing between Tk 80,000 and Tk 1,50,000 based on technological specifications—through software was yet to be installed.
'We have started to get the benefit of it. A traffic police sergeant came under attack from a group of people in Dhaka's Jurain area in early June following an altercation with commuters on a motorcycle,' said a police headquarter official.
'We received different versions talking to the people, but footage from the body-worn camera gave us a clear idea of how it started and who was responsible,' he said.
The official said that they would install cameras on police vehicles in the future and connect them to a central monitoring system.
Police headquarters spokesman assistant inspector general (media and public relations) Kamruzzaman said one of their key intentions of wearing body cameras was to bring transparency in providing public service.
Asked whether the police  would use those during any demonstrations or shooting incidents, Kamruzzaman told New Age that the police did not expect any rioting situations but that police personnel on patrol duty would carry them while on duty.
Retired additional inspector general of police Mokhlesur Rahman appreciated the move and believed that it would bring transparency, professionalism, and confidence in discharging duties.
However, he stated that the police can prioritise their use based on their operational plan.
The demand for body-worn cameras surfaced after the shooting death of retired major Sinha Mohammad Rashed Khan by a police inspector in Cox's Bazar on the night of July 31, 2020, at a check post.
Body-worn cameras from police officers at the scene have been extensively used by the court in the George Floyd killing case in the US city of Minnesota in 2020, leading to the conviction of accused police officer Derek Chauvin.
The United States National Institute of Justice in January 2022 cited the Bureau of Justice Statistics data and explained that the main reasons that local police had acquired body-worn cameras were to improve officer safety, increase evidence quality, reduce civilian complaints, and reduce agency liability.
The second-highest-ranking official of the US Justice Department, Attorney General Lisa Monaco, June 2021, announced that US Federal agents have to wear body cameras while executing search warrants or making pre-planned arrests from now on.
Speaking to New Age, several senior officials said that they were asked to use those cameras in their operational duties.
One of the metropolitan police commissioners and a range deputy inspector general said that they had asked their personnel to use the camera while searching vehicles and on check-post duties.
The DIG told New Age that apart from the traffic and check post duties, he had instructed police personnel to use them during any demonstration to bring transparency.
The issue of police bodycams arose following the recent killings of opposition activists during political protests in Narayanganj and Bhola.
Ain O Salish Kendra executive director Nur Khan was sceptical about whether the police would release the data of body-worn cameras when it would be required.
'We know the case of Ekram's killing. Nothing happened so far despite having some evidence,' he said.
Ekramul Haque, a councillor of Teknaf Municipality Ward-3, was allegedly killed by a unit of the Rapid Action Battalion in Cox's Bazar in May 2018.
'I do not think the use of these cameras will reduce the incidence of torture and other forms of human rights violations,' Nur said.
In the case of secret or serious operations, the police might not prefer to use it, said retired police official Mokhlesur.
Mizanur Rahman, a former chairman of the National Human Rights Commission who taught law at Dhaka University, said that the initiative of giving police body cameras was praiseworthy at a time when the police were suffering from public mistrust and allegations of their partisan behaviour.
'The police may face huge criticism if they fail to release footage when it is needed in the case of an allegation of serious human rights violation,' he said.