He mocks women who refuse to touch male ejaculate, takes pictures of children in his local library, and uses the N-word on social media. He's the Democratic congressional nominee for Ohio's 10th Congressional District, and he's not going anywhere.
David Esrati is challenging 10-term Rep. Mike Turner (R., Ohio) after winning a crowded Democratic nomination in May with just 32 percent of the vote. The local businessman and political provocateur's multi-decade political career has been marked by a seemingly endless string of profane and inflammatory comments, made in defiant Facebook posts or rambling livestream monologues.
Like in March 2016, when he took issue with an article posted on Facebook that said women are often left unsatisfied after sex. "I don't know why so many women are incapable of telling us what's going on," Esrati commented. "If sex sucks- it's probably because you aren't communicating well."

"I could just as easily rant about women who never initiate, who refuse to touch or taste cum, or about the vanilla sex they pass off like it's a gift," Esrati added. "Frankly- most of America is sexually repressed and confused. Especially here in the Dunlop region of the Bible Belt."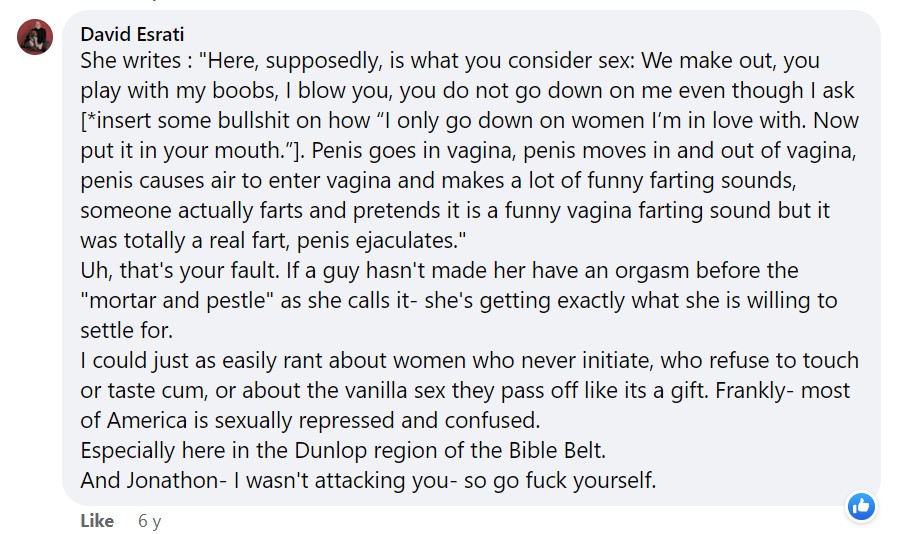 Or in June 2019, when Esrati dismissed charges that he used the N-word by saying he was only quoting comedian Dave Chappelle, and then went on to defend himself in a 2,000-word blog where he used the word twice.
"For the record, I'm the asshole honky who tells kids on the basketball court that the use of that word is inappropriate," Esrati said in the post. "I gave up trying to question it at the barbershop I've been going to for the last half-dozen years. … I get the lecture about the use of the word 'Nigga' vs 'Nigger' — as if that matters."
Speaking to the Washington Free Beacon Tuesday, Esrati doubled down on the claim that he was simply quoting Chapelle.
"I do not use that word. I am not a racist," Esrati emphasized.
Esrati will be on the ballot next Tuesday in Ohio's 10th district as Democrats grapple with a weak slate of candidates in critical races across the country. Republican Mehmet Oz opened a lead in Pennsylvania's senate race following stroke victim John Fetterman's rough debate performance. Republicans have also closed the gap on Democrats in critical senate races in Nevada, Arizona, and Georgia.
Esrati may be proud of his provocative past, but his party is not. Esrati is running with almost no support from Democrats at any level. The Ohio Democratic Party disavowed his candidacy, citing his "inflammatory and offensive language." The Montgomery County Democratic Party refused to endorse Esrati in September, and the Democratic Congressional Campaign Committee has made no public mention of Esrati's candidacy.
But no matter how far they run, Esrati's still the Democrats' problem.
"The fact that David Esrati is the candidate for Ohio 10 proves just how badly the DCCC has failed their party," a Republican strategist told the Free Beacon. "This is a massive recruiting failure and I'd hate to be a Democrat operative next week," the strategist added, predicting that Democrats will lose their House majority.
Esrati struck a similar note in a blog post Monday, writing "It's too bad the DCCC doesn't have a clue on how to promote their message or their candidates- including me, if they really want to maintain control of the house and senate."
It's a far cry from 2020, when the DCCC threw its support behind Desiree Tims, who raised over $2 million during her campaign against Turner. Democrats' refusal to boost Esrati is particularly notable since the Ohio 10th is slightly more favorable for Democrats this cycle, according to the Cook Political Report.
But not every Democrat has disavowed Esrati. Sen. Sherrod Brown (D., Ohio), chairman of the Senate Banking Committee, cut Esrati a $2,500 check from his leadership PAC in late July enclosed in a handwritten note saying: "David — we count on you." Esrati said he did not solicit Brown's contribution, telling the Free Beacon "it just came." Brown did not return a request for comment.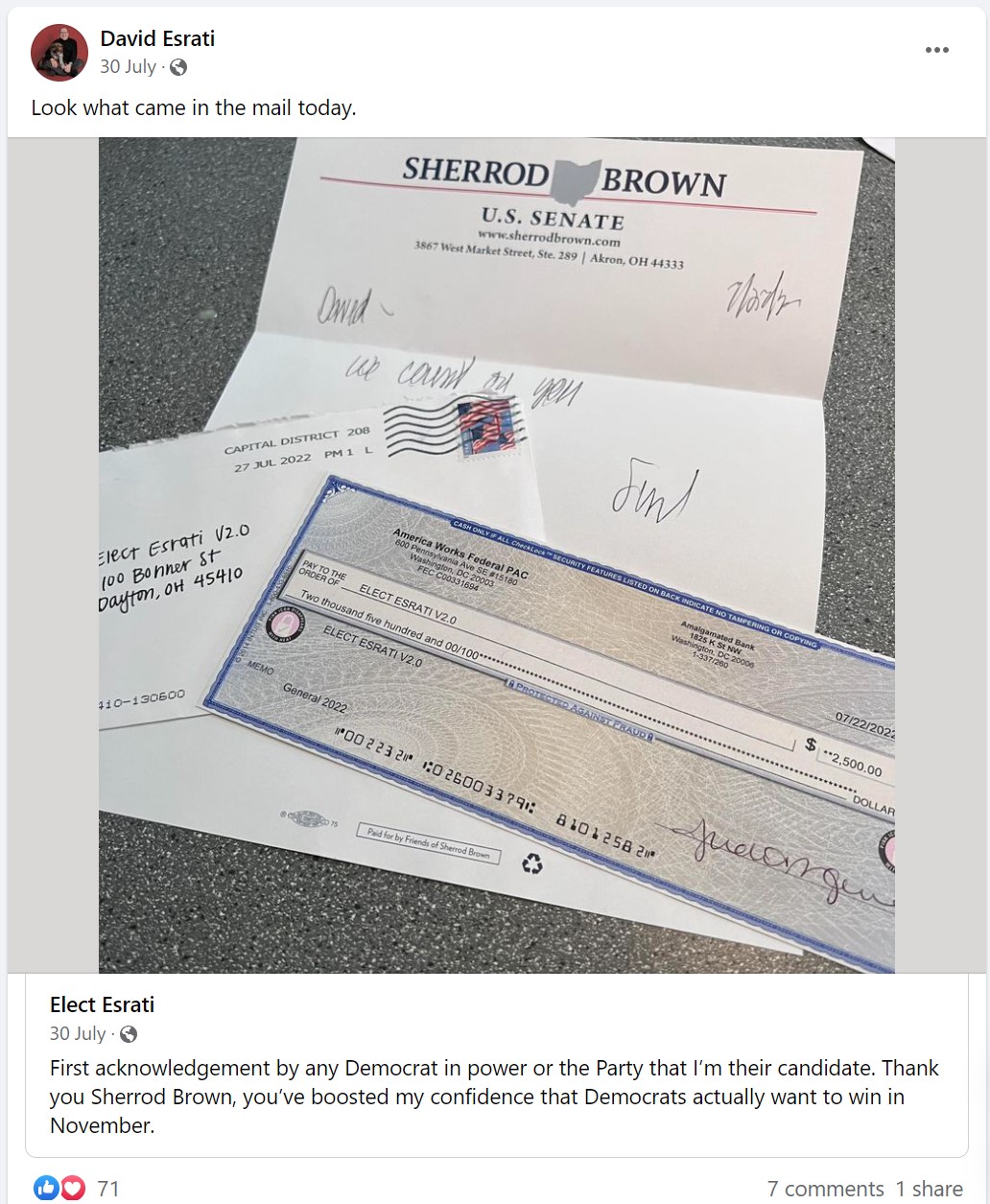 Esrati has raised $40,600 for his campaign as of Oct. 19, almost all of which has been paid to his company, Next Wave Marketing, according to Federal Election Commission records. Esrati reported in his candidate financial disclosure that his firm's purpose is "Helping my clients make money." He told the Free Beacon his campaign works with his personal company because it buys products at wholesale prices.
Esrati rose to local prominence in 1996 when Turner, then the mayor of Dayton, had him arrested and removed from a city commission meeting for wearing a ninja mask. Esrati filed a lawsuit over his arrest, which led to a $100,000 settlement from the city, which Esrati said was used to pay his lawyers. It's not the only time Esrati has parlayed his antics into a lucrative settlement.
In August 2017, security guards kicked Esrati out of the Dayton Metro Library for taking pictures of patrons, some of which he took without first asking for permission. Esrati detailed how he took pictures of an "adorable" young girl at the library in a blog post describing the incident.
"I wandered over to the Eichelberger auditorium- and was taking pictures then, when a young girl was playing on the stage," he wrote. "Her mother asked if she was ruining my photo- and of course, I said no. She was adorable. Snap, Snap, Snap, Snap, Snap."
He sued over the library's attempts to refuse to hand over security footage of the incident, which led to a $39,446 settlement for Esrati. He said the footage proved he did nothing wrong.
Esrati did not deny taking pictures of children at the library during an interview Tuesday with the Free Beacon.
"She was like, 17, probably!" Esrati said. "It was a totally innocuous picture, the problem is the guard suggested I was a pedophile."
"There are no laws against taking pictures of children in public, okay?" he said. "These people are insane, they're making assertions that they have no factual or legal basis. It is not a crime, you lose all rights to privacy in public. I was absolutely within my rights, there's no question."
Esrati has also railed against sex offender laws. "25% or more of my high school class would have probably made it on the sex offenders list by these rules… Sex offender registries are insane," he wrote in a July 2015 Facebook post.
More recently, in April 2020, Esrati attacked his neighbor for "outing" a sex offender. "You are a really stupid woman," Esrati wrote in a direct message to his neighbor after she notified members of a private Facebook group that a sex offender lived in their neighborhood.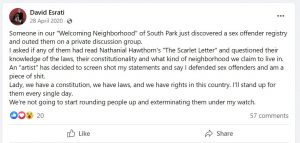 Esrati still stands by this, telling the Free Beacon that the registered sex offender in question had done his time in prison and was living peacefully in the neighborhood.
"He's done his time. If you're not doing anything wrong, where are we supposed to put you, Gitmo?" Esrati said. "Let's talk about real subjects, thank you."
Three hours after speaking to the Free Beacon Tuesday, Esrati broadcast a YouTube livestream in which he confirmed he posted a rant against women who won't touch male ejaculate in 2016 and used the N-word in a 2019 Facebook post. He also doubled down on his criticism of sex offender registries.
"He thought he was Clark Kent- asking about every little heinous thing I may have said online in the last 20 years," Esrati said of this Free Beacon reporter. "Like saying 'sex offender registries' are unconstitutional—which is a part of the argument."