When Covid-19 began to spread at an exponential rate across countries in January 2020, ministers and government officials in Bangladesh assured people that "adequate measures" were taken to prevent coronavirus from entering the country.
Those words of assurance kept flowing the next month until the tiny virus hit the country in early March and exposed the government's mismanagement, lack of coordination and poor handling, resulting in a steady uptick in Covid cases and deaths by mid-April.
For all latest news, follow The Daily Star's Google News channel.
But as citizens expressed discontent over the ineffective handling of the crisis on social media platforms, the government seemed to respond by going after those airing criticism.
In the name of preventing the spread of misinformation about Covid, the authorities applied legal instruments against those speaking about issues ranging from the lack of information on case detection, shortage of protective gear for healthcare workers, alleged corruption in the purchase of PPEs, and in government relief.
Journalists, activists, academics, students, musicians, and even doctors — critical of the government's response to the Covid-19 crisis — were charged under the controversial Digital Security Act (DSA) with the authorities accusing them of spreading rumours through "abusive" posts on social media, sharing those posts, and drawing cartoons and caricatures.
In 2020 alone, 197 cases were filed under the DSA implicating 368 people, including 79 journalists, for expressing their opinions, a study by ARTICLE 19, a UK-based human rights body, revealed in January last year.
The two years since the pandemic hit saw a whopping number of cases filed under the DSA accusing critics of disseminating false, offensive, derogatory or defamatory information.
According to the Centre for Governance Studies (CGS), a non-government think-tank, 2,244 people have been accused in 890 cases between January 2020 and February 2022.
And, at least 842 people were detained in those two years, said the CGS in a report titled "The Unending Nightmare: Impacts of Bangladesh's Digital Security Act-2018".
The report also recorded the occupations of 315 of the arrestees: 59 were journalists and 47 were students.
Analysing print and online news, Amnesty International in a report published in July last year said more than 100 journalists were sued under the DSA between January 2019 and July 2021, and at least 40 of them were arrested.
'I HESITATE TO WRITE REPORTS'
Tanvir Hasan Tanu is one of the newsmen in Thakurgaon who faced charges under DSA during amidst the pandemic.
Tanu, the district correspondent of online portal Jagonews24, was sued and arrested on July 10 last year for publishing a report on alleged irregularities in food supplied to Covid-19 patients at the district Sadar hospital.
Photos of a handcuffed Tanu were shared on social media, triggering protests by journalist communities. Many took to social media demanding immediate withdrawal of the case and an investigation into the reported irregularities.
Mohammad Nadirul Islam Aziz, superintendent of Thakurgaon Sadar Hospital, filed the case with Thakurgaon Police Station against Tanu.
Two local journalists — Rahim Shuvo, former correspondent of online portal Bangla News, and Abdul Latif Litu, district correspondent of Bangladesh Pratidin — were also accused in the case.
The three of them secured bail, but they have to appear before the court once a month, which is a source of mental stress for them and an impediment to carrying out their professional duties.
"Now I feel hesitant to write reports relating to anomalies of the ruling party men or government officials and [those] in public office. My family, especially my parents, always ask me not to write anything that could bring further hassles," Tanu told The Daily Star.
Dalim Kumar Roy, the investigation officer in the case, submitted a charge sheet to the court on June 23, accusing the trio.
Senior photojournalist Shafiqul Islam Kajol disappeared on March 10, 2020, a day after Awami League lawmaker Saifuzzaman Shikhor filed a DSA case against him.
In the next two days, two more DSA cases were filed against him in Hazaribagh and Kamrangirchar police stations.
Kajol was charged with circulating indecent, defamatory, objectionable, and fake information about some ministers, lawmakers, and top Jubo Mahila League leaders on Facebook. He was "found" by the Border Guard Bangladesh roaming around the Benapole border 53 days later.
He was denied bail by the lower court for seven months until the High Court on November 24, 2020, granted him bail in one of the cases. The HC on December 17, 2020, granted him bail in the two other cases. The photojournalist walked out of jail on bail on December 25, 2020.
Talking to this newspaper after his release, Kajol said, "It felt like I was in a grave. It was a very small enclosed space with no windows.
"My eyes were bound, my hands were cuffed from behind, and my mouth was gagged for all 53 days up until I was dropped off at Benapole. I only kept count of the days. That is it," he said while describing his 53-day disappearance.
A Dhaka tribunal on November 8 last year framed charges against Kajol in the three cases filed under the DSA. The cases are pending with the High Court and hearings in the cases are likely to be held before October 31.
Not only journalists, writers, activists, and even a cartoonist were implicated under the act.
Writer Mushtaq Ahmed was critical, on social media, of the government's handling of the pandemic. On May 6, 2020, Rapid Action Battalion (Rab) arrested him from his Dhaka home for "spreading rumours and carrying out anti-government activities".
The charges were filed under the DSA and he was denied bail six times. Mushtaq died in prison on February 25 last year after languishing there for over nine months, solely for exercising his right to freedom of expression.
Mushtaq was among 11 people, including cartoonist Ahmed Kabir Kishore, and Didarul Islam, a member of a politico-civic organisation called Rashtrachinta, who have been accused in the same case.
Like Mushtaq, Kishore was picked up on May 2, 2020, for the crime of drawing cartoons. He was denied bail six times. He, however, got bail on March 4, 2021, and alleged that both of them were tortured while in custody.
FIRST-EVER CASE UNDER THE OFFICIAL SECRETS ACT
Apart from so many cases filed under the DSA during the pandemic, the countrymen saw for the first time a journalist sued under the colonial-era Official Secrets Act-1923.
Rozina Islam, an award-winning investigative reporter of Bangla daily Prothom Alo, was arrested on May 17 last year when she went to the health ministry at the Secretariat to perform her duties.
Rozina Islam. Photo taken from Prothom Alo
">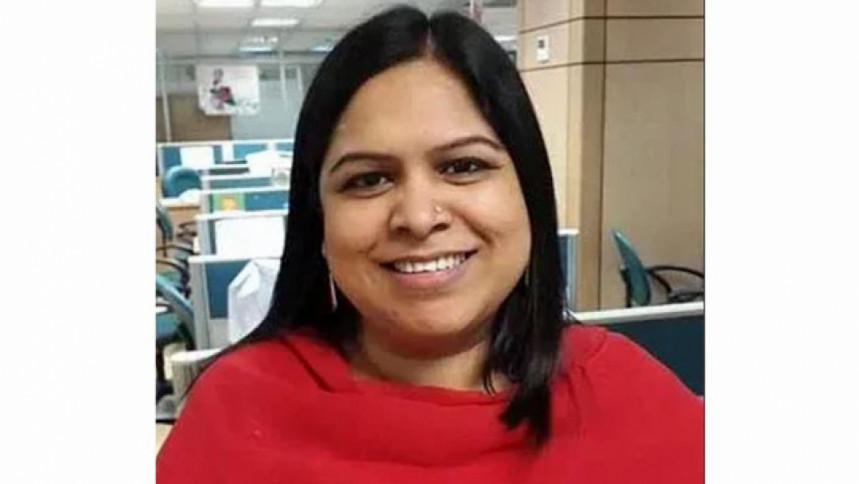 Rozina Islam. Photo taken from Prothom Alo
She spent six hours in confinement and suffered physical and mental harassment before being handed to the police.
Before her arrest, the health ministry on the same day filed a case against her under the Official Secrets Act-1923 and the Penal Code on charges of stealing and taking photos of "highly sensitive" government documents. Since then, she has been facing charges of up to 14 years in prison or even the death penalty.
Rozina, a recipient of several media awards, refuted the charges. Her colleagues claimed that she has been targeted for reporting on irregularities in the health ministry amid the pandemic.
After a week of imprisonment, she was freed on bail.
A year has passed but the investigation in her case is still going on, although the investigation report was scheduled to be submitted to the court on May 26 this year.
Rozina is yet to get back the passport that she surrendered after getting out of jail.
Experts said that the wanton use of law created a culture of fear and severely disrupted the freedom of expression, leading journalists to self-censor to avoid retribution.
"Gagging media, silencing the critics, and persecuting the whistleblowers not only contribute to the proliferation of corruption but also help continue the culture of impunity," said Ali Riaz, a distinguished professor of political science at Illinois State University (ISU).
He said the government can hide their abuse of power only if the people are kept in the dark.