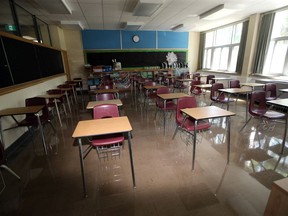 Article content
Windsor's Catholic school board will shutter schools Friday ahead of a planned one-day strike by education and support workers across the province. 
Article content
Education and support workers belonging to the Canadian Union of Public Employees (CUPE) will conduct a one-day strike Friday in a planned protest of Ontario's Keeping Kids in Schools Act, a pre-emptive piece of legislation to keep workers on the job after the union signalled its intention to strike.
Article content
The legislation would impose a four-year contract on education workers.
Locally, the job action will affect hundreds of workers, from custodians and building maintenance workers to education assistants and speech pathologists belonging to a number of different locals. 
"I think mostly, people are very angry," said Darlene Sawchuk, president of CUPE Local 1358, which represents around 600 early childhood educators, educational assistants and other education professionals with the Windsor Essex Catholic District School Board.
Article content
"They're very upset about this absolute blatant abuse of power that the Ford government is exercising right now … if anything, I think it's catapulted their determination to to act on it."
CUPE, which represents about 55,000 education workers, is asking for an 11.7 per cent raise for its workers, or about $3.25 per hour or $4,800 a year.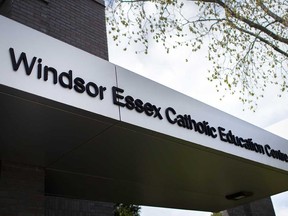 While the raise seems high, union officials said wages have grown just 8.8 per cent over the last decade, while Ontario's inflation over that time was about 19 per cent. The union says more than half its education workers have had to take a second job, with the average worker making about $39,000 per year.
Earlier this week the Ontario government announced it would table legislation and use the notwithstanding clause  in order to keep workers on the job come Friday — prompting CUPE to announce its workers would leave the job Friday regardless, in protest of the legislation. 
Article content
The notwithstanding clause in the Charter of Rights and Freedoms gives the provincial legislatures and Parliament the ability to override certain portions of the charter for five years.
"Students are finally back in class catching up, following two years of pandemic disruptions," said Stephen Lecce, Ontario's minister of education  in a statement announcing the legislation this week.
"CUPE has now made the decision to strike, putting their own self interest ahead of Ontario's nearly two million children, who deserve to stay in class learning. We are delivering on our promise to parents that our government will do whatever it takes to keep students in class, so they can catch up and get back to the basics of learning."
Article content
The government says it has offered salary increases of 2.5 per cent for workers with wage grids below $43,000 annually, and 1.5 per cent for workers with wage grids above that.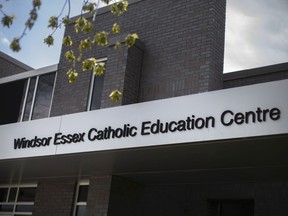 But CUPE's Ontario School Boards Council of Unions said those numbers don't represent the actual increases their members would see.
"The government offer provides wage increases based on the top rate in the wage grid," CUPE officials said in a statement. "That means that if a worker's grid goes up to higher than the cut off of $25.95 per hour but they currently earn less, they will only receive 1.5 per cent."
Workers are nervous head of Friday's job action, said Anthony Birley, president of CUPE Local 27 representing custodians and building maintenance workers with the Greater Essex County district school board. 
Article content
"(They are) anxious, of course, but we're willing to do what we have to do to get this done," Birley said.
The Windsor-Essex Catholic District School Board announced on Wednesday morning it will close its schools for in-person learning "in accordance with provisions in the Education Act and in the interest of the health and safety of our students and staff."
The Catholic school board's CUPE membership differs from that of the public school board. In an Oct. 31 update the public board said schools will remain open.
Public school board provides updates on potential labour strife

Windsor-Essex Catholic schools to be closed Friday

CUPE awaits Ontario's response to its counter-offer as strike looms
Sawchuk said she wants to remind people that Friday's protest action is about more than money for her members.
"We're there when there are emotional and mental disabilities. We're there for kids who have learning exceptionalities, we're there for kids who need speech and language therapy," Sawchuk said.
"This political action that we're taking on Friday isn't just about $3.25 an hour. It is really about ensuring … that there are enough people providing essential services in our schools, that every kid, whether they have exceptionalities or not, gets the education that they're rightfully deserving."
ksaylors@postmedia.com